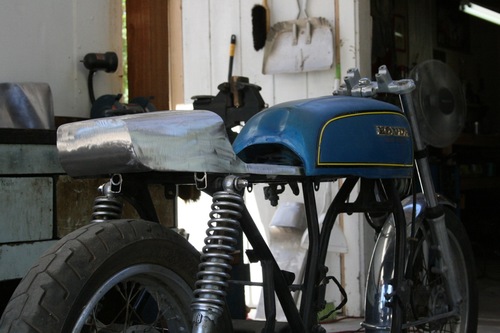 Seat No.3 Dunstal Universal Cafe Racer Seat Honda CB750 for the F Tank
SNO3DV2
Product Details
Seat No.3 Dunstal Universal Cafe Racer Seat Honda CB750
This Café Racer Seat made of steel is just like what we put on our custom bikes. This product is still made by hand, TIG welded. Metal seats are stronger, easier to modify, mount, and hold up better over time than fiberglass. Steel is ideal for painting, or finishing with a clear coat.

All Steel seats are made out of 18g cold rolled steel for the pan, and 20g for the tail sections.
This seat requires mounting and modification to your bike, so be prepared. Some additional assembly like mounting, upholstery, paint and finishing prep buffing is recommended. You can do it on your own or we provide services that will finish your seat the way you want it.

Since these seats are still hand made they will vary from unit to unit slightly.


Description
This is Seat No.3 that is made for larger displacement motorcycles, like the CB750, Kz900. Specifically for the CB750's running a F series Tank. Please check the dimensions of you bike and our seats. These are not bolt on solutions but will get you a good platform to start with.
Tip to tail the seat is 23.75" long. From the tank end of the seat to the beginning of the hump the seating area is 13.5". The inside width of the seat is 7" at the tank, and 9" at the hump. The hump is 5.5" tall from the bottom of the side rails, the skirts are 3/4".
Each application is different. So measure twice, and I always recommend working with a local shop that can mount your seat properly.
To measure for your seat go to our measurement guide for how to measure up a custom seat to check your specifications for mounting.
Save this product for later